Join Plan to Protect® as a new member in October and you will receive a copy of "How Much Is a Little Girl Worth?" By Rachel Denhollander.

ALREADY a Plan to Protect® member?? Refer a new membership client and you also receive one of these beautiful new books.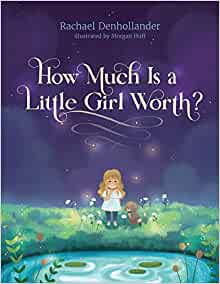 Setting up next years Budget? Use Code BUDGET23 when requesting a quote on any of the following products and receive a $25 gifcard to use anytime during 2023.
Policy Audit
Policy Update
Customized Policies
Board Training
Professional Development for your Administrator, Trainer, and Board Members
Onsite training
Online training for your staff members and volunteers
Criminal record checks for new team members
Criminal record check renewals for those that were screened during or before 2019
Investigation
Plan to Protect® membership
Resources for your library
A Plan to Protect® training license
Plan to Protect® APPs for your volunteers
Insurance coverage (for Abuse)
$250
($350 Value)
Bundle of 10 Registrations

Receive a bundle of 10 registrations for on-line or LIVE webinar Orientation and Refresher trainings for ONLY $250. That's a great way to get a large group of volunteers and staff trained. Registrations do not expire.
$550
($875 Value)
Bundle of 25 Registrations

Receive a bundle of 25 registrations for on-line or LIVE webinar Orientation and Refresher trainings for ONLY $550. That's a great way to get a large group of volunteers and staff trained. Registrations do not expire.
$950
($1750 Value)
Bundle of 50 Registrations

Receive a bundle of 50 registrations for on-line or LIVE webinar Orientation and Refresher trainings for ONLY $950. That's a great way to get a large group of volunteers and staff trained. Registrations do not expire.
$20 Off
Bundle of Pocket Guides

Purchase a bundle of 10 Pocket Guides and receive $20 off the cost of purchasing individually. Bundles can be 10 Children Pocket Guides, 10 Youth Pocket Guides, 10 Disability Initiative Pocket Guides, 10 Vulnerable Adult Pocket Guides, or mix and match of 10 of any of the above.
4/$25

Suite of Pocket Guides

Purchase one of each pocket guide - Children, Youth, Disability Initiatives, and Vulnerable Adult for only $25+tax